Ring-a-round the rosie
A pocket full of posies
Ashes! Ashes! We all fall down.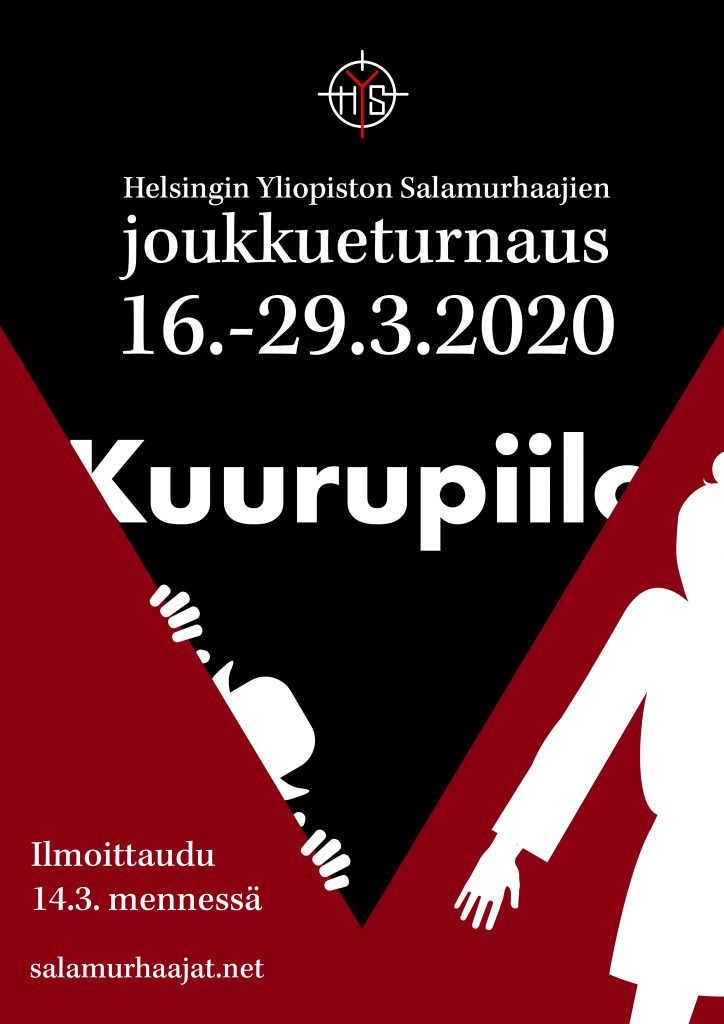 Helsingin yliopiston salamurhaajien joukkueturnaus "Kuurupiilo" pelataan 16.-29.3.2020. Kokoa joukkue ja tule mukaan! Ilmoittautuminen tapahtuu osoitteessa https://murhamaster.salamurhaajat.net/tournaments/36/registration 14.3. klo 23.59 mennessä.

The goal of the assassination game is to "murder" other players with playful weapon replacements, while trying to corner your target with as few witnesses as possible. Anyone with a healthy playful attitude is welcome to enter (as long as they are staying mainly in the Helsinki metropolitan area during the game). The tournament is free of charge. Teams consist of 2-4 players, so gather your friends and join the action! You can also sign up on your own, in which case the jury will assign a team for you. Experienced players are encouraged to team up with beginners, who they can then educate in the art of assassinating. Experts may also volunteer as a Godfather/Godmother to train a team. If you'd like, you can use the theme of the tournament as inspiration for your team name, reports or even your game tactics!
The teams are divided into circles, and each team is both a target and a hunter. The game goes on around the clock, but the players may ask for some times or places to be protected, if there is a good reason. The most typical weapon is a water pistol, but a style-conscious murderer may choose to instead operate with a knife, bomb, poison - or why not a venomous snake. If weapons are not listed in the weapon rules, they have to be pre-approved by the weapons umpire.
Jokainen joukkue on pelissä sekä saalistaja että kohde. Tyylipisteitä havitteleva murhaaja operoi vesipistoolin sijasta mieluummin veitsellä, pommilla, myrkyllä tai vaikkapa käärmeellä. Erikoisemmat murhasuunnitelmat on kuitenkin hyväksytettävä etukäteen asetuomarilla. Peli on käynnissä vuorokauden ympäri, mutta pelaajat voivat halutessaan toivoa joitakin tiloja tai ajankohtia rauhoitetuiksi.

Tournament and weapons rules are important and need to be read carefully before participation. If you haven't participated in the games before, it is a good idea to take a look of the previous tournaments' sites: they will supply a good concept of the game's workings.

If you have any further questions concerning the assassination game, rules, sign-up form or anything at all, don't hesitate to ask:
tuomaristo@salamurhaajat.net.