Joukkueturnaus on 2-4 henkilön joukkueissa pelattava pidempi salamurhaturnaus murharingillä. Järjestöjoukkueissa pelattava Järjestöturnaus korvattiin Joukkueturnauksella vuodesta 2017 lähtien. Tällä sivulla kerrataan Joukkueturnausten historiaa
Please take note that the old event pages for past tournaments can't be read at the moment, as the pages are being transferred from one site to another. Sincere apologies for the inconvenience!
Jump straight into the year:
2017
Team Tournament 2017, "Ghost Sounds", was played 3.-15.4.2017. The umpires were Simo Lehtinen (head umpire), Johannes Järvisalo (weapons umpire) and Tuomas Puikkonen (player umpire).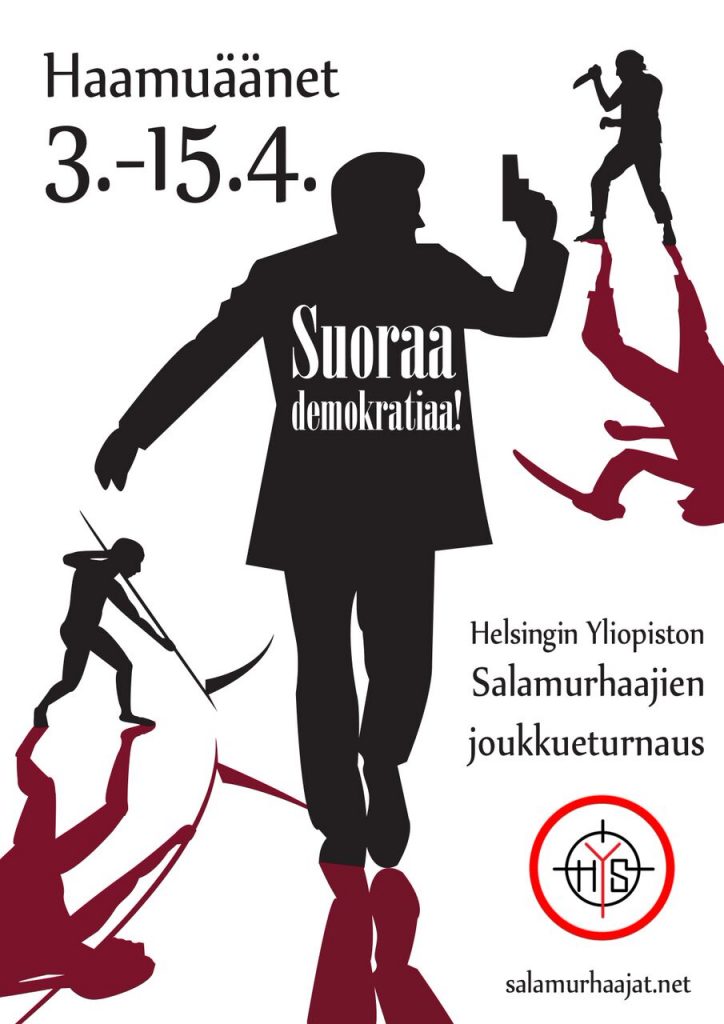 2018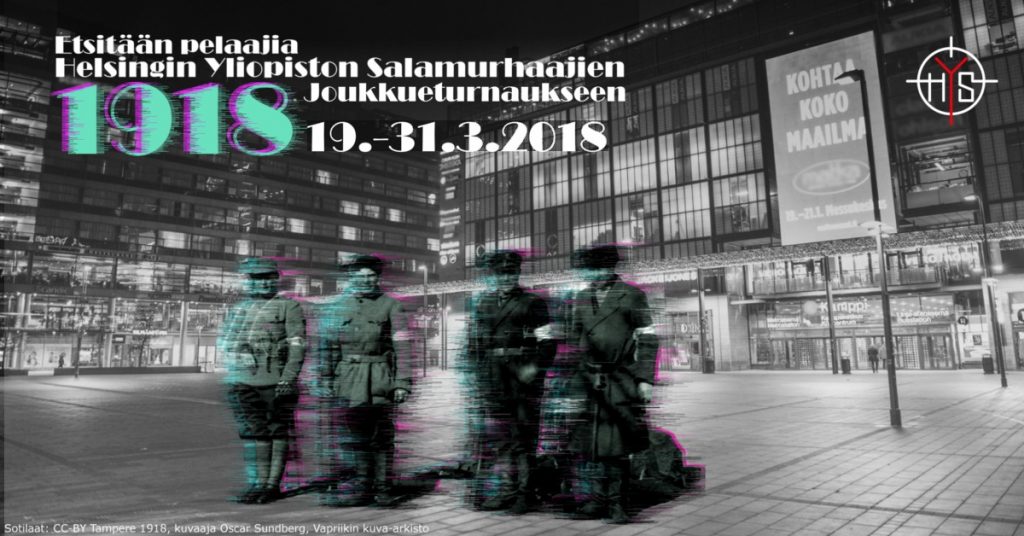 The year is 1918. The independent Finland is still a fresher, with its many internal conflicts. There are plenty of dividing lines within the population and various factions are keen to defeat their rivals.
Team Tournament 2018, "Team Tournament 1918", was played 26.3.-8.4.2018. The umpires were Johannes Järvisalo (head umpire), Juho Gröhn (weapons umpire) and Petrus Peltola.
2019
Team Tournament 2019, "Spring Cleaning", was played 26.3.-8.4.2018. The umpires were Soile Itkonen (head umpire), Juho Gröhn (player umpire) and Johannes Järvisalo (weapons umpire).
Do your universal poisons rattle unused in your closets? Would you like to make acquaintances via the act of murders? Is your water gun in the need of spring maintenance? Spring Cleaning™ of the Helsinki Guild of Assassins may be the right solution for you!
2020
Team Tournament 2020, "Hide-And-Seek", was meant to be played 16.-29.3.2020, but the tournament was cancelled due to the corona epidemic. The umpires-to-be were Suvi Nurmi (head umpire), Sara Pyykölä and Erika Ojanperä.
Ring-a-round the rosie, a pocket full of posies
Ashes! Ashes!
We all fall down.