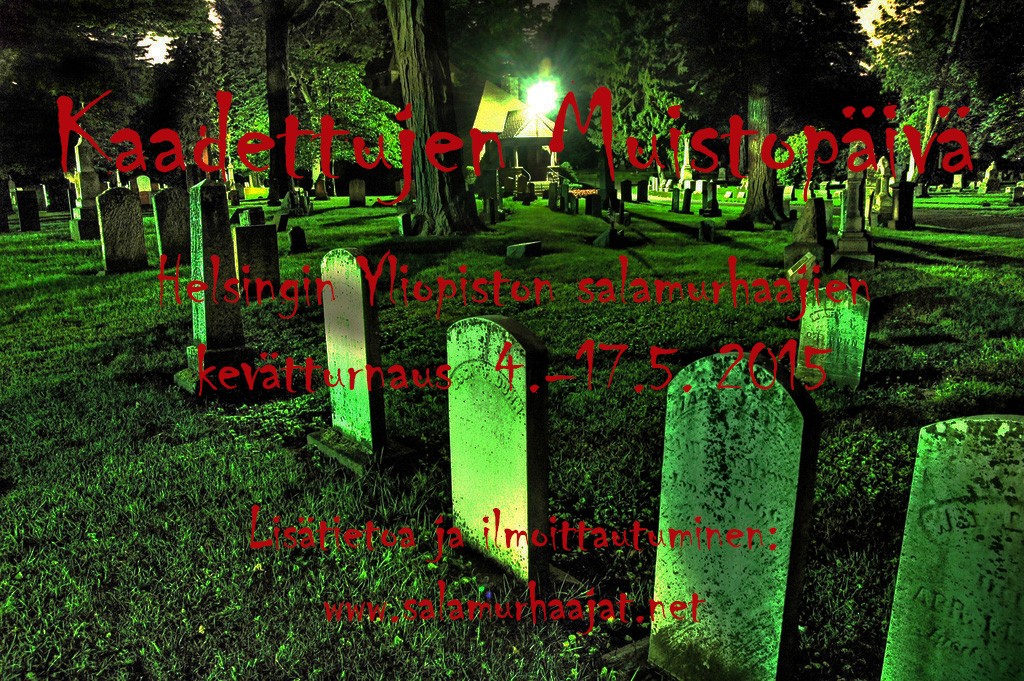 Kaadettujen Muistopäivä / Commemoration Day of the Felled

Peli käydään 4.–17.5.2015. / The tournament will be played 4.–17.5.2015
Kuka kaatuu? Kuka muistetaan? Herääkö joku henkiin?
Helsingin yliopiston salamurhaajien kevätturnaus "Kaadettujen Muistopäivä" pelataan 4.–17.5.2015. Osallistua voi kuka tahansa, jolla on tervettä leikkimieltä ja joka oleskelee pelin ajan kutakuinkin pääkaupunkiseudulla.
Muistathan lukea myös turnaus- ja asesäännöt (päivitetty 23.4.2015). Jos et ole aiemmin osallistunut salamurhapeliin, vanhojen turnausten tapahtumasivujakin kannattaa vilkaista, sillä niiltä saa hyvän käsityksen pelin kulusta.
Ilmoittautuminen on auki lauantaihin 2.5. klo 23:59 asti, joten toimi nopeasti!
**********
Who will fall? Who will be remembered? Will someone rise from the dead?
The Spring Tournament of the Assassins at the University of Helsinki, "Commemoration Day of the Felled", will be played 4.–17.5.2015. Anyone with a healthy, playful attitude is welcome to attend, if they are reachable in the Helsinki area during the game.
Don't forget to read the tournament rules. If you're new to the game, the pages on previous tournaments will give an overview of the game in practice.
The sign up for the game is open until 2 May 23.59, so act quickly!
Tuomaristo ja pelimaksu / Judges and entry fee

Turnauksen tuomareina toimivat Laura Immonen (päätuomari), Simo Lehtinen, Ville Lovikka ja Esa Perkiö (asetuomari).
Pelimaksu on 5 euroa, ja sillä kustannetaan turnauksen palkinnot. Lisätietoja mm. pelimaksun maksamisesta saat ilmoittauduttuasi. Tuomaristo vastaa mielellään kaikkiin peliä koskeviin kysymyksiin: hys-tuomaristo[at]helsinki.fi
**********
The judges for the tournament will be Laura Immonen (head judge), Simo Lehtinen, Ville Lovikka and Esa Perkiö (weapons judge).
The entry fee is 5 euros, and it will be used to cover the cost of the prizes. You will receive additional info about the game before it begins. If you have any further questions, don't hesitate to ask: tuomaristo[at]salamurhaajat.net.
Pelin säännöt / Game rules

Weapons rules and turnaussäännöt (päivitetty 23.4.2015!)
Tournament rules and Weapon rules (slightly outdated).
Turnauksen lopullinen pisteytys / Final scores

| Peitenimi | Nimi | Murhat (ei lisäkohteita) | Tapot | Pidätykset | Sivulliset uhrit | Todistajat ja silminnäkijät | Pisteet |
| --- | --- | --- | --- | --- | --- | --- | --- |
| Belaja Smert | Suvi Nurmi | 3 | 0 | 0 | 0 | 0 | 48 |
| Lilja | Sami-Pekka Hirvonen | 1 | 0 | 0 | 0 | 0 | 32 |
| Shinigami | Suvi Klapuri | 1 | 0 | 0 | 0 | 0 | 25,5 |
| Tell-Tale Heart | Laura Leskelä | 1 | 0 | 0 | 0 | 0 | 17,5 |
| Mörkö | Johannes Järvisalo | 1 | 1 | 0 | 0 | 6 | 17,5 |
| Virsi | Annika Vilenius | 0 | 0 | 1 | 0 | 0 | 9 |
| Styx | Mira Nybom | 0 | 0 | 1 | 0 | 0 | 7,5 |
| Nemo | Kalle Lappinen | 0 | 0 | 0 | 0 | 0 | 1,5 |
| neuropora | Jani Lehtinen | 0 | 0 | 0 | 0 | 0 | 0 |
| Rotta | Tuomas Puikkonen | 0 | 0 | 0 | 0 | 0 | -5 |
| Currykastike | Timo Nikkari | 0 | 0 | 0 | 0 | 0 | -5 |