Helsinki University's Society of Human hunters (HUSH)
"The members of the Guild of Assassins considered themselves cultured men who enjoyed good music and food and literature. And they knew the value of human life.
To a penny, in many cases."
– Terry Pratchett, Hogfather
Have you ever wanted to plot for days on end to shoot complete strangers with a water pistol? Are you susceptible to hysterics when an acquaintance on bowing terms asks you suddenly for a cup of tea? Does a playful little assassin live in your heart?
The Helsinki University's Society of Human hunters aka HUSH (also known as Assassins or Assassins' Guild) practices and maintains a playful human hunting sport. Closest to our wretched black hearts is an assassination game, but also paintball, Megazone and other jolly slaughter fests are in our interests. Welcome aboard!
Fall Tournament 2023
One of our biggest fall events will take you into a heated fight between two mafia families! Enroll now, or at the latest 1.10. More details about the Fall Tournament 2023 are available on the tournament page.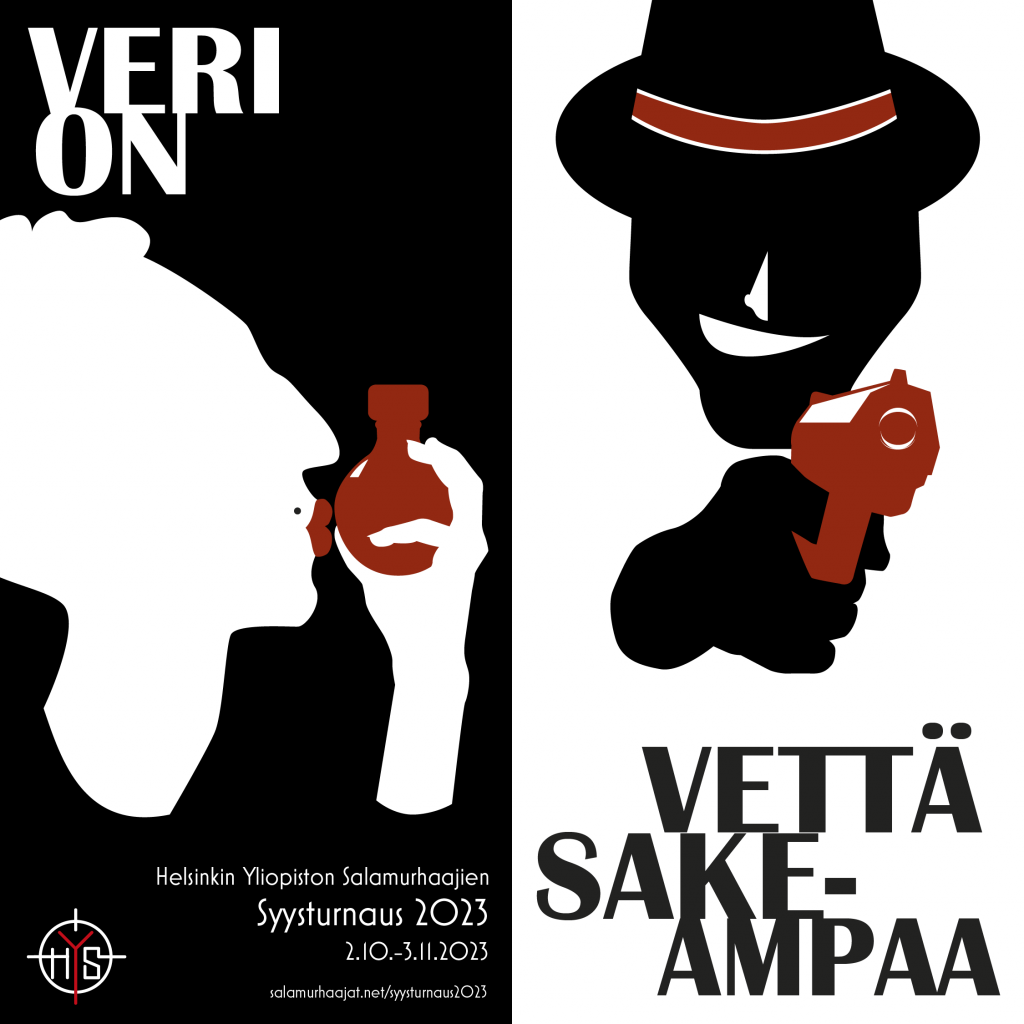 Giveaways
Assassins are hosting giveaways 30.8.-1.10., where you can win HUSH overall badges or HUSH songbooks! Enroll now to all, so you get the best chances to win!
HUSH and its activities briefly
Video
Article
Assassins wrote an article about their activities to Tutkain, the social science students' magazine! The article in Finnish and the article in English.
Address
Helsinki University's Society of Human hunters
Mechelininkatu 3 D (Cat Cluster)
00100 Helsinki
To get in, ring a doorbell that has a label "Cat" on it or call the number listed in the door sign. Our clubroom is on the basement floor of the building. The clubroom is accessible, but the toilets are not.
Contact information
Board: hallitus (at) salamurhaajat.net
Anonymous harassment contact form in Drive
Anonymous feedback form in Drive
Public documents
We preserve our most valuable documents, such as the association's rules, data policies, anonymized minutes and club room cluster's documents, in Google Drive.
About the website
Sivuston kieli / The language of the website
Huomaathan, että jos haluat vaihtaa sivuston kieltä, päävalikossa sivun yläreunassa on oma valikko sitä varten.

Please take note that if you wish to change the language, there is a toggle menu for that in the main menu at the top of the page.
Sivuston evästeet / The cookies of the website
Älä huoli, olet turvassa: arvostamme yksityisyyttäsi ja emmekä kerää evästeitä mainos- tai analytiikkatarkoituksiin. Käytämme vain välttämättömiä evästeitä sivuston toiminnan kannalta, joita emme voi poistaa. Voit halutessasi kokeilla estää niitä omalta selaimeltasi, mutta huomaa, että tämä voi vaikuttaa sivuston käyttökokemukseen. Yksityiskohtainen tietosuojakäytäntömme.

Don't worry, you're safe: we value your privacy, and we don't collect cookies for advertisement or analytics purposes. All our cookies are necessary cookies for the website's functionality, which we can't remove. If you so wish, you can try and decline them from your browser directly, but please take note this may affect your experience with the website. Our privacy policy in detail.
Ongelmia sivun kanssa? / Problems with the website?
Jos kohtaat minkäänlaisia ongelmia sivun kanssa, laitathan viestiä siitä ylläpitäjille sähköpostitse: nettisivut@salamurhaajat.net.

If you run into any kind of problems with the website, please inform the admins via email: nettisivut@salamurhaajat.net.