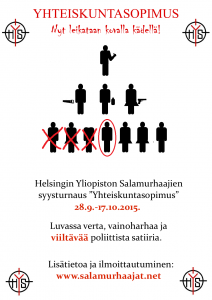 Yhteiskuntasopimus / Social Contract
Peli käydään 28.9.—17.10.2015. / The tournament lasts from 28th September to 17th October 2015.
Yhteiskuntasopimus kaatui – nyt leikataan kovalla kädellä!
Helsingin yliopiston salamurhaajien syysturnaus "Yhteiskuntasopimus" pelataan 28.9.-17.10.2015. Osallistua voi kuka tahansa, jolla on tervettä leikkimieltä ja joka oleskelee pelin ajan kutakuinkin pääkaupunkiseudulla. Pelimaksu on 5 euroa, ja sillä katetaan pelin palkinnot.
Muistathan lukea myös the tournamentand weapons rules (päivitetty 23.4.2015). Jos et ole aiemmin osallistunut salamurhapeliin, vanhojen turnausten tapahtumasivujakin kannattaa vilkaista, sillä niiltä saa hyvän käsityksen pelin kulusta.
Turnauksen tuomareina toimivat Johannes Järvisalo, Juha Alander, asetuomari Ville Lovikka ja päätuomari Suvi Lintuvaara.
Ilmoittaudu here!
HUOM: turnauksen teeman vuoksi pyydämme pelaajia käyttämään harkintaa peitenimiä valitessaan. Tunnistettaviin, oikeisiin henkilöihin, erityisesti poliitikkoihin, viittaavia peitenimiä ei hyväksytä.
***********
The social contract has failed – cuts must be made!
The Fall Tournament of the Assassins at the University of Helsinki, "Social Contract", will be played from 28th September to 17th October 2015. Anyone with a healthy, playful attitude is welcome to attend, if they are reachable in the Helsinki area during the game. The participation fee is 5 euros and the money is used to buy prizes for the winners.
Don't forget to read the tournament rules. If you're new to the game, the pages on previous tournaments will give an overview of the game in practice.
The umpires for this tournament are Johannes Järvisalo, Juha Alander, weapons umpire Ville Lovikka and head umpire Suvi Lintuvaara.
Sign up here!
NOTE: due to the theme, we would like the players to use discretion when picking nicknames. No nicknames that refer to recognizable, real persons (especially politicians) will be allowed.
Turnauksen pisteet:
| Peitenimi | Oikea nimi | Murhat | Tapot | Pidätykset | Silminnäkijät | Todistajat | Sivulliset uhrit | Murhat + tapot + pidätykset | Pisteet |
| --- | --- | --- | --- | --- | --- | --- | --- | --- | --- |
| R | Simo Lehtinen | 3 | 2 | 0 | 0 | 0 | 1 | 5 | 69,5 |
| Fiddle | Leo Veijalainen | 5 | 0 | 0 | 0 | 0 | 0 | 5 | 62,5 |
| Kuri | Esa Perkiö | 1 | 1 | 0 | 0 | 0 | 0 | 2 | 43,5 |
| Megrez | Juho Gröhn | 2 | 0 | 1 | 2 | 0 | 0 | 3 | 41,5 |
| Työtön Porvari | Sami-Pekka Hirvonen | 1 | 0 | 0 | 3 | 0 | 0 | 1 | 35,5 |
| Epitafi | Soile Itkonen | 1 | 0 | 0 | 2 | 0 | 0 | 1 | 28 |
| Puffin Khat | Emil Löytty | 0 | 0 | 1 | 0 | 0 | 0 | 1 | 19,5 |
| Luokkaritari 10th anniversary edition | Lauri Torikka | 1 | 0 | 0 | 0 | 0 | 0 | 1 | 16,5 |
| Pontus 1a | Sami Sillman | 1 | 0 | 0 | 0 | 0 | 0 | 1 | 16 |
| Jalo-Pena Höskänder | Teo Mertanen | 1 | 0 | 0 | 0 | 0 | 0 | 1 | 14 |
| MustaLeski | Sonja Salmi | 0 | 0 | 0 | 0 | 0 | 0 | 0 | 10 |
| TheChairman | Sami Hasunen | 0 | 0 | 0 | 0 | 0 | 0 | 0 | 10 |
| Kunnollinen Kansalainen | Jenni Ott | 0 | 0 | 0 | 0 | 0 | 0 | 0 | 9 |
| Deminuo | Julius Laitala | 0 | 0 | 0 | 0 | 0 | 0 | 0 | 8 |
| siilinpiikki | Tommi Ostrovskij | 0 | 0 | 0 | 0 | 0 | 0 | 0 | 7 |
| Leviathan | Laura Leskelä | 0 | 0 | 0 | 0 | 0 | 0 | 0 | 4 |
| T-Bone | Eemeli Ingervo | 0 | 0 | 0 | 0 | 0 | 0 | 0 | 4 |
| PelkoajainhoaSitratorilla | Lasse Hämäläinen | 0 | 0 | 0 | 0 | 0 | 0 | 0 | 2,5 |
| Lisensiaatti | Ilmari Karimies | 0 | 0 | 0 | 0 | 0 | 0 | 0 | 2 |
| Kirurgi | Annika Vilenius | 0 | 0 | 0 | 0 | 0 | 0 | 0 | 1,5 |
| Myrkky Käärme | Lassi Lapintie | 0 | 0 | 0 | 0 | 0 | 1 | 0 | 1,5 |
| Orwell | Ville Talonpoika | 0 | 0 | 0 | 0 | 0 | 0 | 0 | 1,5 |
| Nuudeli | Virpi Sumu | 0 | 0 | 0 | 0 | 0 | 0 | 0 | 1 |
| Vlad | Iiro Tiihonen | 0 | 0 | 0 | 0 | 0 | 0 | 0 | 1 |
| Moottori.fisaha | Matilda Holkkola | 0 | 0 | 0 | 0 | 0 | 0 | 0 | 0 |
| Viktor Lempinen | Aapeli Nevala | 0 | 0 | 0 | 0 | 0 | 0 | 0 | 0 |